This extra thoughtful pressie is for mini bookworms looking for a monthly treat. Rather than picking one book from a whole load you like, we can select 6 books and send one to the lucky book lover each month.  Expect some trickier picture books and illustrated chapter books. We do not stock the big paperback series for readers who motor through novels like David Walliams or Harry Potter so bear that in mind when ordering. 
Our book subscription is the perfect choice for anyone looking for something a bit special; a thoughtful and unique present that gives and gives.  Guided by the age, we will hand-pick from our selection of favourite books and the little reader will receive a new beautifully wrapped book every month.
Choose the duration
Include the Age and any special instructions in the NOTES section of checkout.
Include a gift note if you wish
The first package will be sent soon after ordering with the first book, a card detailing the service and your gift message.
Following books are sent at the end of each month
Any problems or duplicate books? Just drop us a note on the Contact us page.
We charge a one off postage fee of £9.99 and all gift wrap is included. 
Images shown are for illustration only but we guarantee that every book club recipient will receive an enviable collection of beautiful books.**Please state the AGE of the child receiving in the NOTES area of the checkout!**
A monthly treat that encourages reading for pleasure
This gift subscription has encouraged my son to read to himself. The books arrive like a little gift each month, which makes it special for him. I'd recommend the book club as a gift for grandchildren if you're near or far away.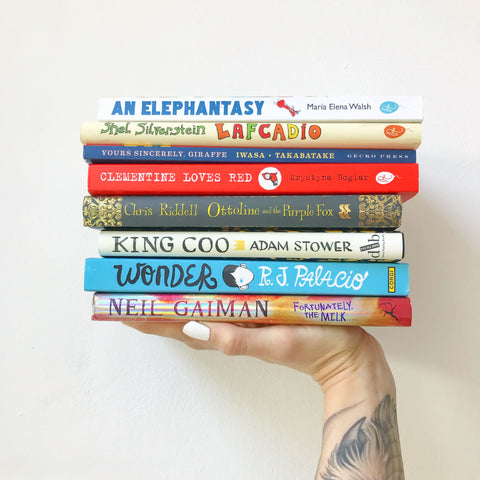 You might also like...