The HappySelf Journal
£25.00
 HAPPYSELF
A daily journal for children aged 6 to 12, based on scientifically proven methods that promote happiness, develop healthy habits for life and nurture enquiring minds. Beautifully illustrated and easy to use, with just a few minutes focus each day, children benefit by being encouraged to express gratitude, reflect on their emotions and think about their actions.  Simple prompts encourage dialogue without pressure, conversation starters for mealtimes, quotes to feel positive and strong and simple questions to help you think about your week.
Gratitude Practice
Growth Mindset
Kindness
Mindfulness
Encourage Family Dialogue
Screen-free Activity
Self-Awareness
Daily quotes to support perseverance, self-esteem and resilience.
WHY:
"As a mum of a 7 and 11-year-old, back in early 2017, I was getting increasingly frustrated at the press constantly telling us kids are growing up stressed and that mental health issues were on the rise. At the same time, in my tech and productivity consultancy, I noticed a trend for a return to analogue: pen and paper planning preferred to apps, journaling over social media and mindfulness over time online.  
Many of my clients, myself included, were working on improving their habits and mindsets to achieve balanced, happy lives with better mental health, wellbeing, mindfulness, focus and improved productivity. At the same time, we worked hard at home to improve our digital resilience and reduce our family's collective time online. I witnessed the impact of daily journaling, reduced screen-time, mindfulness and gratitude practice on my wellbeing and how simple changes to our home life made a big difference to the kids. We have 'switch-off-weekends', share our 'top three things' at the dinner table and my daughter started journaling as she saw me do it every day.
I wanted to give both kids a simple journal but couldn't find what I wanted, so set out to make something that incorporates all those habits that science has shown to help us lead happier lives and encourage a growth mindset. Fast- forward to summer 2018 and the journal is going to print having been tested with dozens of children, aged 7 to 12. I've completed an online course at the University of California, Berkeley to delve deep into published papers underpinning the science of happiness; looked at how schools are introducing the growth mindset concept; spoken to experts in child psychology and education as well as numerous parents and teachers."
Age range: 6 - 12 years 
128 pages
A6
Hardback with soft binding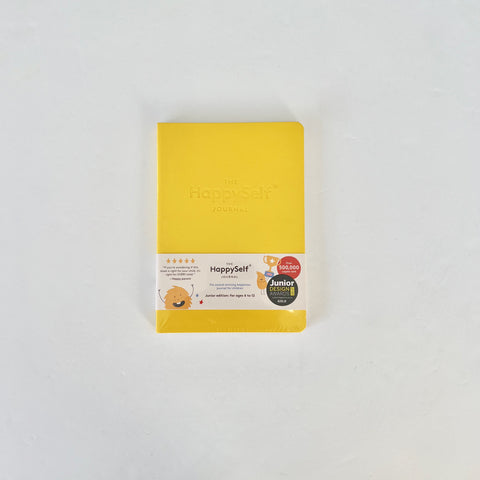 You might also like...