ARABELLE SOCARDI and SARAH TANAT-JONES
From Freddie Mercury's contribution to music, Emma González's brave and powerful message, Leonardo da Vinci's artistic legend, Harvey Milk's refusal to stay quiet and so many more inspiring queer heroes and icons and their tapestry of stories. Published to celebrate the 50th anniversary of the Stonewall Uprising, this extraordinary book will show children that anything is possible.

Discover the inspiring stories of these LGBTQ+ artists, writers, innovators, athletes, and activists who have made great contributions to culture, from ancient times to present day. This is the perfect book for anyone who wants to learn more about a collection of inspiring figures in LGBTQ+ history:

Freddie Mercury, Sappho, Audre Lorde, Manvendra Singh Gohil, Frida Kahlo, Emma Gonzalez, James Baldwin, Leonardo da Vinci, Alexander Wang, Subhi Nahas, Tove Jansson, Alan Turing, Michelangelo, Martina Navratilova, Sia, Tim Cook, Pedro Almodovar, Virginia Woolf, Tchaikovsky, Vikram Seth, Yotam Ottolenghi, Johanna Sigurðardóttir, Marsha Johnson, Sylvia Rivera, David Bowie, Kasha Nabagsera, Lili Elbe, Matthew Bourne, Alvin Ailey, Harvey Milk, Willem Arondeus, Nergis Mavalvala, Rufus Wainwright, Marlene Dietrich, Larry Kramer, Didier Lestrade, Nabuko Yoshiya, Bayard Rustin, Claire Harvey, Barbara Jordan, Josephine Baker, k.d. lang, Kristen Stewart, Jazz Jennings, Elio di Rupo, Oscar Wilde, Harish Iyer, Khalid Abdel-Hadi, Lana and Lilly Wachowski, Ellen DeGeneres, and Portia de Rossi.
Age range: 10 - 15 years 
64 pages
242 x 280mm
Hardback
Wide Eyed Editions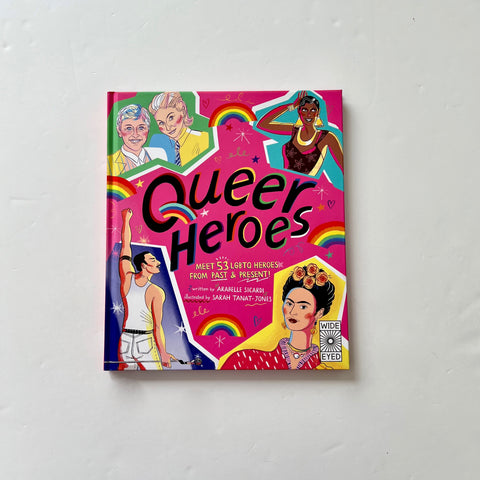 You might also like...