Fearless Fairy Tales
£15.00
KONNIE HUQ, JAMES KAY and RIKIN PAREKH
A hilarious and anarchic collection of classic bedtime stories for young readers, all utterly updated for a new generation.

Meet Trumplestiltskin, a vain and gold-obsessed little man who will stop at nothing to become richer and richer. There's Sleeping Brainy, the princess whose only dream is to become Chancellor of the Exchequer, and the Gingerbread Kid, who escapes persecution in his home country but struggles to fit in in his new one. You won't forget the lingering stench of Mouldysocks - a boy obsessed with staring at his iPad but rather less obsessed with personal hygiene - and you'll be rooting for Rap-Unzel when she gets the chance of fame by appearing on Kingdom's Got Talent . . . but at what cost?

Packed with stories about boys who aren't afraid to cry and rhymes about girls who refuse to kiss frogs, FEARLESS FAIRY TALES shakes up dusty, old-fashioned (and, to be honest, rather sexist) bedtime stories and totally reinvents them for the twenty-first century. From fake news to female footballers, environmental pollution to equal pay, nothing is off limits in this anthology of laugh-out-loud fairy tales with thoroughly modern morals.

Told in the fresh, vibrant and unique voice of Blue Peter favourite Konnie Huq, writing with James Kay, and packed full of irresistible illustrations by Rikin Parekh, FEARLESS FAIRY TALES is the perfect hardback gift for young readers (and older readers fed up with serving their kids the same old boring bedtime stories).
Age Range: 6 - 9 years
176 pages
195 x 254mm
Hardback Book
Piccadilly Press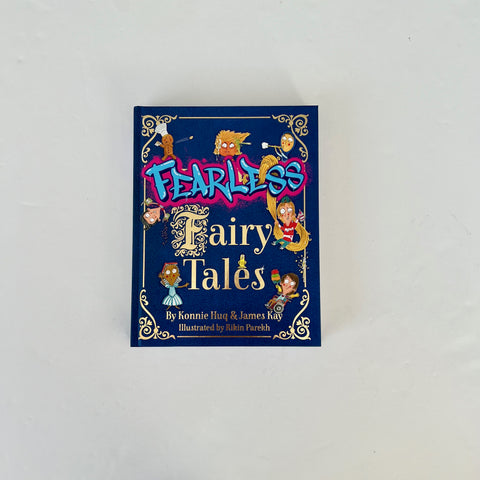 You might also like...