Take A Bite: Eat Your Way Around The World
£25.00
ALEKSANDRA MIZIELINSKA, DANIEL MIZIELINSKI and NATALIA BARANOWSKA
Eat your way around the world in this tasty book which looks at food, recipes and cultural traditions from 26 different countries.

Where did corn come from? And wheat? And potatoes? What have people in Turkey been eating for centuries? Find out, in this delicious new book from the award-winning duo behind the bestselling Maps.

Learn how to make Vietnamese pancakes, Brazilian pralines and Hungarian lecsó in this delectable book which will take you on a feast-filled adventure! Be a guest at a Moroccan feast, sail along a Vietnamese floating market and indulge in the haute cuisine of France's master chefs. Not only will you find new delicacies, but you'll also learn about their remarkable history and cultural roots along the way.

This beautiful large format book makes for the perfect gift.

Age Range: 7 years +
116 pages
280 x 376mm
Hardback Book
Big Picture Press
Packed with delectable bite-sized tidbits
If you're interested in food and its history, 'Take a Bite' is definitely going to be your cup of tea.
This A3-sized behemoth of a book is a vibrant kaleidoscope of stunning art and diverse cultures. I found myself in wonderment as I delved into facts about the origins of modern culinary staples (such as tea, sugar, chocolate and much more), eager to learn about these foods that I have been eating on a daily basis. Information is delivered in short paragraphs with large text, allowing people like me (with short attention-spans) to digest and retain them more easily. Not only do we learn about these specific foods, but also the cultural significance of their ingredients. As a result, I'm definitely going to write some of these dishes down as must-try, when I eventually travel to their country of origin. This book gives a gentle nudge to food-lovers to explore cuisines outside of their comfort zones.
My only criticism of this book is its poor functionality as a "recipe book". Due to its large size and weight, it is not ideal in the kitchen. Furthermore, as a result of its lovely aesthetic of hand-drawn art, understanding how the final dish is supposed to look in real life is up to your imagination (or google).
Despite saying this, I believe this book's intent is to educate children (and adults!) about the cultural significance of different cuisines. Personally, I believe it has definitely delivered on this front.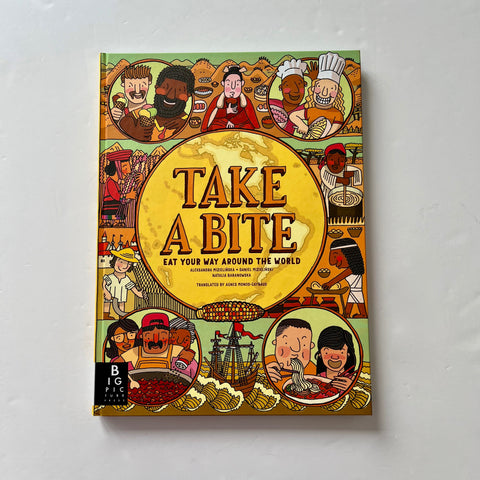 You might also like...